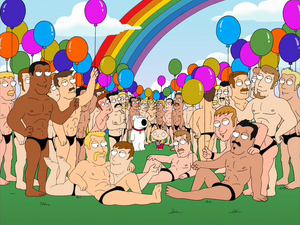 The Universe of Homosexual Men was a universe that Brian and Stewie Griffin visited in "Road to the Multiverse", populated with homosexual males. No towns or cities seem to exist, although rainbows are frequent. Stewie loves it, reinforcing sexual confusion. However, because they quickly departed the Universe of Fire Hydrants, Brian pushed the remote button to move onto another universe.
Ad blocker interference detected!
Wikia is a free-to-use site that makes money from advertising. We have a modified experience for viewers using ad blockers

Wikia is not accessible if you've made further modifications. Remove the custom ad blocker rule(s) and the page will load as expected.