Hello everyone who loves the show! Of course you do, why else would you be here? Not only you love the show, but you don't care if it doesn't "make sense" like what South Park was trying to tell us.
Lois's voice is both (kinda) annoying and sexy. Its similar to Fran Drescher. She looks hot in that dominatrix outfit in "Let's Go to the Hop" and "Peter's Two Dads"!
I feel sorry for Meg, who always takes a lot of crap. I like the episode where she gets a break: "Don't Make Me Over", "Road to Rupert", and "Peter's Daughter". I like when one of the dancing girls kicked Meg in the face in "A Picture's Worth a Thousand Bucks" (she did it on purpose).
My favorite episode is "Stewie Loves Lois", because for once Stewie realizes how much she loves her. Oh yeah, and that finger-in-the-ass situation! I like when Lois is all exhausted from Stewie's love, and the rings under her eyes.
My favorite song in the show is "Vasectomy", because of that very long part.
Meg has three friends who wear glasses:
The short-brown-haired girl with freckles and bucktooth. I gave her the name Mary. ("Fifteen Minutes of Shame")
Patty is the redhaired girl with braces. She wears mary-janes and highwaters. She always smiles that geeky smile, showing her braces. ("Don't Make Me Over", "Petarded", "Jungle Love", "Barely Legal", "Peter's Two Dads", "Peter's Daughter")
Esther is the black girl with that two-puff hairstyle and sometimes braces. ("Don't Make Me Over", "Petarded", "Jungle Love", "Barely Legal", "Peter's Two Dads", "Peter's Daughter")
I think these three girls are nerds. They have no boyfriends. They should be the most frequent friends Meg hangs out. The four would be called the "Nerd Girls". In fact, the redhead and the black girl were sitting together with Meg in the same couch in "Peter's Daughter". That would be evidence that they're her bestest friends.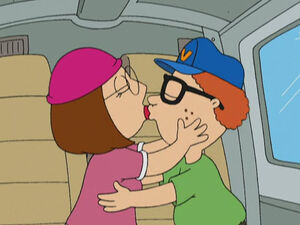 I personally think she should settle for
Neil Goldman
, because she's a four-eyed nerd like him. I like seeing Meg and Neil kissing on the lips in "
The Kiss Seen Around the World
" and hanging out together behind the bleachers like a couple in "
8 Simple Rules for Buying My Teenage Daughter
". It sucks to hear that
Kevin Swanson
is dead, because I thought he and Meg should go out.
I like Jillian. She should have gotten married to Adam West!
See my main page. Check out my Cleveland Show page.