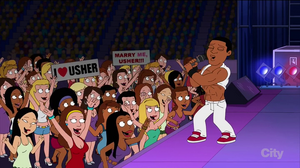 Usher Raymond IV (born October 14, 1978), who performs under the stagename Usher, is an American recording artist and actor.
Peter declares that the day he bought a metal detector in "The Peanut Butter Kid" was the second happiest day of his life, setting up a cutaway in which Usher chooses him to come up on stage so he can sing "Trading Places" directly to him.
Usher is voiced by Sean Kenin.