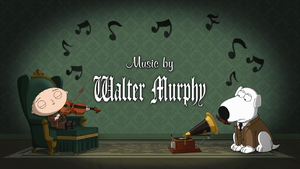 The title is a reference to the novel V for Vendetta.
During the title card for show composer Walter Murphy, Brian is seen imitating the Nipper the dog trademark of RCA known as "His master's voice."[1]
Brian and Stewie play "Heart and Soul" on the bagpipes stuffed into Meg's body, similar to a scene in the film Big.[2]
Stewie can't resist playing with the kids from Madeline while in Paris and notes that she has appendicitis, referring the the original book in the series.
"The Tale of Constance" imitates other Victorian-era penny dreadful villains such as Sweeney Todd and Mack the knife.
Quagmire states that he "Rathboned somebody's Cumberbatch"; as well as sounding like a sexual euphemism, this references Basil Rathbone and Benedict Cumberbatch, actors who played Sherlock Holmes.[3]