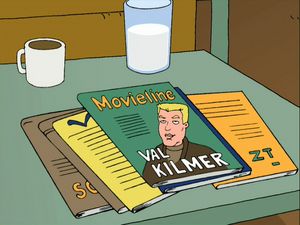 Val Edward Kilmer (born December 31, 1959) is an American actor. Originally a stage actor, Kilmer became popular in the mid-1980s after a string of appearances in comedy films, starting with Top Secret! (1984), then the cult classic Real Genius (1985), as well as blockbuster action films, including a role in Top Gun and a lead role in Willow.
He appears on a cover of a magazine in "Brian Does Hollywood". Brian Griffin, an aspiring writer/director living in Los Angeles, received a phone call from his family. As he hadn't reached any success yet, he tries to think up a lie. He spots a magazine with Kilmer on the cover. Looking for an actor of better quality, he spots another magazine with Kevin Costner on the cover. Realizing his second choice isn't much better, he tells his family that he's directing the newest Kilmer movie.
Ad blocker interference detected!
Wikia is a free-to-use site that makes money from advertising. We have a modified experience for viewers using ad blockers

Wikia is not accessible if you've made further modifications. Remove the custom ad blocker rule(s) and the page will load as expected.