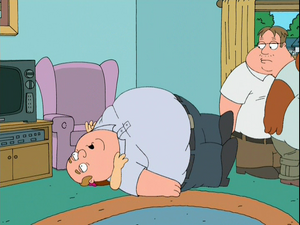 Victor as a morbidly obese man who appears in "The Fat Guy Strangler".
In the episode, he joins the National Association for the Advancement of Fat People. When inside founder Peter Griffin's home, he leans too much on Griffin's daughter Meg and falls on top of her.
Ad blocker interference detected!
Wikia is a free-to-use site that makes money from advertising. We have a modified experience for viewers using ad blockers

Wikia is not accessible if you've made further modifications. Remove the custom ad blocker rule(s) and the page will load as expected.