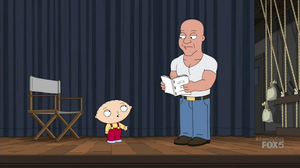 Mark Sinclair (born July 18, 1967), better known by his stage name Vin Diesel is an American actor, known for work in The Fast and the Furious film series and The Chronicles of Riddick trilogy.
When Stewie is surprised that Brian had a successful night at the Chuckle Bucket Comedy Club in "Guy, Robot", he cites his experience of being Vin Diesel's acting coach. He is shown in a cutaway instructing Diesel to simply respond with "duhhh!."
"Vin"'s voiceover is provided for the DVD menu in Stewie's The Fast and the Furious DVD set.