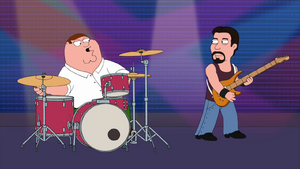 Vince is the lead singer in a rock band in a cutaway set up by Peter in "He's Bla-ack!"
When Peter notes that he figured out how long to make eye contact during a guitar solo, He is shown staring at Vince as he keeps looking back at Peter, making suggestive movements until the scene shifts to their getting married.
Ad blocker interference detected!
Wikia is a free-to-use site that makes money from advertising. We have a modified experience for viewers using ad blockers

Wikia is not accessible if you've made further modifications. Remove the custom ad blocker rule(s) and the page will load as expected.