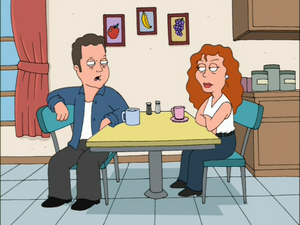 Vincent Anthony "Vince" Vaughn (born March 28, 1970) is an American film actor, screenwriter, producer and comedian. He began acting in the late 1980s, appearing in minor television roles before experiencing wider recognition with the 1996 movie, Swingers. He has since appeared in a number of films, mostly comedies, including Old School, Starsky & Hutch, Dodgeball: A True Underdog Story, Couples Retreat, Mr. & Mrs. Smith, and Wedding Crashers.
He co-stars with Susan Sarandon in a film called People Who Look Like They Never Sleep.... The film's trailer preceded the showing of Stewie Griffin: The Untold Story.
In "Movin' Out (Brian's Song)", Stewie Griffin spots a rack of magazines with Vaughn on the cover at the Quahog Mini-Mart. Disgusted, he knocks the rack down, and his sister Meg had to clean it up.