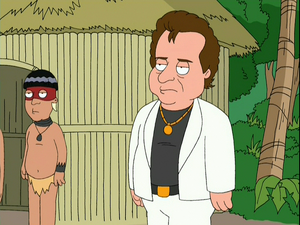 Vincent Gambini is a fictional character in the 1992 American comedy film My Cousin Vinny. In the film, after recently becoming a lawyer, he has to defend his cousin Billy in an Alabama trial after Billy and his friends are falsely accused of murder. He was portrayed by Joe Pesci.
He appears in "Jungle Love" as part of the South American tribe led by Chief Oleki. He dances along to Chris Griffin's performance of "Wake Me Up Before You Go-Go". After Peter Griffin became economic leader of the tribe, he tells Pesci to say something that would emphasize on his Brooklyn accent. He was voiced by Jay Mohr.
Ad blocker interference detected!
Wikia is a free-to-use site that makes money from advertising. We have a modified experience for viewers using ad blockers

Wikia is not accessible if you've made further modifications. Remove the custom ad blocker rule(s) and the page will load as expected.