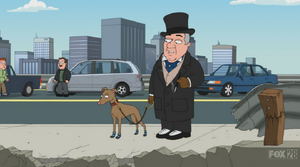 William Claude Dukenfield (January 29, 1880 – December 25, 1946), better known as W. C. Fields, was an American comedian, actor, juggler and writer. Fields was known for his comic persona as a misanthropic and hard-drinking egotist who remained a sympathetic character despite his snarling contempt for dogs, children and women.
When Fields spots a banner for Goldman's Pharmacy floating in the river after being lost by Peter Griffin and Glenn Quagmire in an effort to help Mort Goldman in "Burning Down the Bayit", Fields notes that the pharmacy might be a good place to locate shoes for his dog.
Ad blocker interference detected!
Wikia is a free-to-use site that makes money from advertising. We have a modified experience for viewers using ad blockers

Wikia is not accessible if you've made further modifications. Remove the custom ad blocker rule(s) and the page will load as expected.