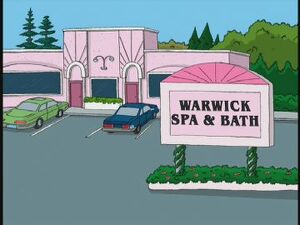 The Warwick Spa & Bath is where Lois takes Meg to help try to take her mind off spring break at the beach in A Fish out of Water. While getting mud baths, Meg is constantly reminded of the fun she is missing at the beach and makes Lois leave early. Lois decides to surprise meg by heading to the beach.
Ad blocker interference detected!
Wikia is a free-to-use site that makes money from advertising. We have a modified experience for viewers using ad blockers

Wikia is not accessible if you've made further modifications. Remove the custom ad blocker rule(s) and the page will load as expected.