Ad blocker interference detected!
Wikia is a free-to-use site that makes money from advertising. We have a modified experience for viewers using ad blockers

Wikia is not accessible if you've made further modifications. Remove the custom ad blocker rule(s) and the page will load as expected.
Wasted Talent
Lois find that, when Peter is drunk, he is a virtuoso at the piano so she enters him in a piano competition.

Season: 2 Episode: 20
Total Episode Count: 27
Prod. no.: 2ACX15
First Aired: July 25, 2000

Guest Starring: Michael McKean, Adam Carolla
Featuring: Peter Griffin, Lois Griffin, Alexis Radcliffe
Also Appearing: Brian, Meg, Chris, Stewie, Quagmire, Death, Pawtucket Pat, Chumbawumbas, Tom Tucker, Diane Simmons, Tricia Takanawa, Mayor Adam West, Cleveland Brown, Joe Swanson, Bonnie Swanson, Kevin Swanson, The Nelsons, Jonas, Jimmy the Piano Player, Dr. Gary Miller, Dr. Fred Rubin, Horace, The Great Gazoo, Cap'n Crunch, Barbra Streisand, James Brolin, Cheech Marin, Tony Randall, Mary Richards
Musical Numbers: Pure Inebriation, The Choomba Woomba Song

Director: Bert Ring

Assistant Director
:
Eric Fredrickson
Writers
:
Dave Collard
,
Ken Goin
,
Mike Barker
,
Matt Weitzman
Storyboarders
:
Susan Crossley
,
Joe Denton
,
Art Mawhinney
Plot
: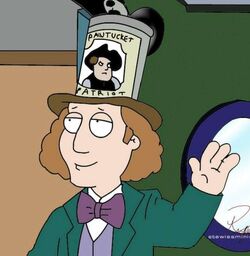 Lois desperately searches for one piano student who can beat her rival Alexis' student at the piano competition.
Meanwhile, Peter drinks even more Pawtucket Patriot Ale than usual in an attempt to win a tour of the brewery. Almost ready to give up, he drinks one more beer, which turns out to have the silver scroll. Peter and Brian go on the brewery tour, but split off from the group to try beer that never goes flat despite Pawtucket Pat's warning that they haven't worked out the kinks. When Pat finds Peter and Brian in the forbidden room, he ejects them from the brewery.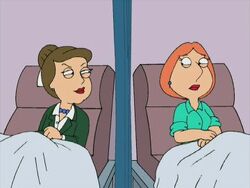 Angry at Pawtucket Pat, Peter tries to get Lois' attention by playing the piano showing that he can play piano perfectly when drunk. Lois decides to enter Peter as her student in the piano competition and keeps him in a state of constant inebriation. At the competition, Peter can't even find the piano, Lois has to turn him around and move him a couple of inches. Peter and Lois win first place but Lois frets that she may have harmed his health for her own selfish need to win.