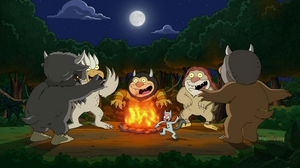 Where the Wild Things Are is a 1963 children's picture book by American writer and illustrator Maurice Sendak. The book has been adapted into other media several times, including an animated short in 1974 and a live-action 2009 feature-film.
Peter sets up a cutaway in "Quagmire's Mom" when he is forced by Lois to drop his persona of Justin, noting that he had quite an adventure just like when he found where the wild things were. As Max and the monsters dance around a bonfire, Peter shoots all of the creatures dead to Max's horror, as Peter thanks him for his help in locating them so that they can grind their horns up for aphrodisiacs.
Quagmire scores a sex date from a wild thing in "The Dating Game" who later shows up in the song "Tinder is Gross".