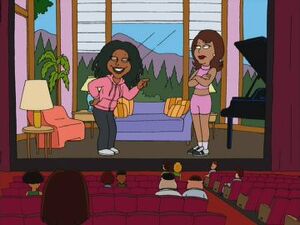 Whoopi Goldberg (born Caryn Elaine Johnson on November 13, 1955) is an American comedienne, actress, singer-songwriter, political activist, and talk show host. She has been involved in such projects as Ghost and The View.
She appears in "If I'm Dyin', I'm Lyin'" as a celebrity square on Hollywood Squares.
She also stars with Angela Bassett in the fictional sequel How Stella Got Her Groove Back 2 in "There's Something About Paulie". She is also seen on a poster for the film located at the theater.
In "Not All Dogs Go To Heaven", Patrick Stewart says he hooked up with her all the time while filming Star Trek: The Next Generation.
In the uncensored version of "Quagmire's Dad", when Brian leaves for his seminar, Stewie insists he knows how to have a good time. The scene fast-forwards to a cardboard cutout set of The View with photograph standees of Whoopi, Barbara Walters and Elisabeth Hasselbeck set on the table.
When Peter exhales after a day of work in "Finders Keepers", his breath smells bad enough to cause the family to complain. Stewie peeks down the stairs and asks if Whoopi Goldberg is working out down there.