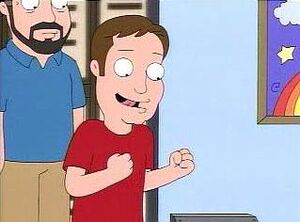 Richard William "Wil" Wheaton III (born July 29, 1972) is an American actor best known for his portrayals of Wesley Crusher on the television series Star Trek: The Next Generation, as Gordie LaChance in the film Stand by Me and as himself in The Big Bang Theory.
His Stand By Me character was played by Peter Griffin in the film's "Three Kings" segment, and renamed Petey LaChance.
He is transported to Stewie Griffin's room via teleporter along with the rest of the Star Trek: The Next Generation cast in "Not All Dogs Go To Heaven". He presumably was part of the TNG booth at the convention earlier in the episode. His name is used to continue the Cool Whip running gag. In "Partial Terms of Endearment", he provided the voice of the leader of the abortion protesters.
Ad blocker interference detected!
Wikia is a free-to-use site that makes money from advertising. We have a modified experience for viewers using ad blockers

Wikia is not accessible if you've made further modifications. Remove the custom ad blocker rule(s) and the page will load as expected.