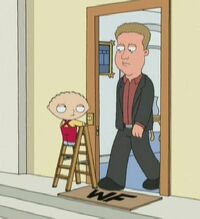 John William "Will" Ferrell (born July 16, 1967) is an American comedian, actor, voice actor and writer. Ferrell first established himself in the late 1990s as a cast member on the NBC sketch show, Saturday Night Live, and has subsequently starred in many comedy films.
In "Fifteen Minutes of Shame", he voiced both the "Fat Greek Guy" and Miles "Chatterbox" Musket.
In "Mr. Saturday Knight", he voiced The Black Knight.
In "Jungle Love", Stewie Griffin traveled all the way to his home and punched him in the face because of Ferrell's poor jokes in the 2005 film, Bewitched.
Ad blocker interference detected!
Wikia is a free-to-use site that makes money from advertising. We have a modified experience for viewers using ad blockers

Wikia is not accessible if you've made further modifications. Remove the custom ad blocker rule(s) and the page will load as expected.