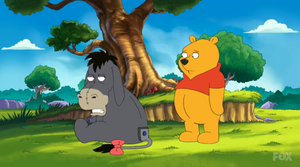 Will Ryan (born November 13, 1939) is an American voice actor and producer–writer–composer. In the late seventies he teamed up with Phil Baron as Willio and Phillio. They had regular gigs on television, radio and comedy clubs and universities throughout the U.S.. Ryan and Baron later paired up again voicing characters of best friends Teddy Ruxpin (Baron) and Grubby the Octopede (Ryan) in the Teddy Ruxpin book and tape series as well as the 1987 television show The Adventures of Teddy Ruxpin.
Will provided the voice of Winnie-the-Pooh in "Road to the North Pole".
Ad blocker interference detected!
Wikia is a free-to-use site that makes money from advertising. We have a modified experience for viewers using ad blockers

Wikia is not accessible if you've made further modifications. Remove the custom ad blocker rule(s) and the page will load as expected.