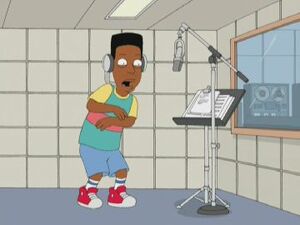 Willard "Will" Smith, Jr. (born September 25, 1968) is an American actor, film producer and rapper. Smith has been nominated for four Golden Globe Awards, two Academy Awards, and has won multiple Grammy Awards.
He is seen attending the Grammy Awards in "Saving Private Brian".
In "McStroke", Stewie Griffin successfully attempts to get along with the cool kids at James Woods. He then says that he has become a bigger hit with the kids than Smith's "nice clean rap". Smith is then seen implausibly recording a rather educative and well-behaved song. As noted in the commentary, they are poking fun at his early rap song, "Parents Just Don't Understand". He was voiced by John Viener.
In "Peter-assment", he was the first of the five black celebrities that Peter Griffin makes fun of Ollie Williams.
Peter uses Will Smith marring a pitbull as an example of people who marry and don't have sex in "Fresh Heir".
Will's son is mentioned in "The Boys in the Band" when Peter points out that he works as a movie star.