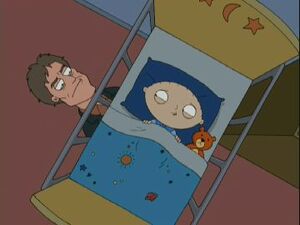 William "Willem" Dafoe (born July 22, 1955) is an American film and stage actor, and a founding member of the experimental theatre company The Wooster Group. He is best known for his roles in To Live and Die in L.A., Platoon, The Last Temptation of Christ, Shadow of the Vampire, Mississippi Burning, The Boondock Saints, American Psycho, the initial Spider-Man films and Antichrist.
Dafoe lives under Stewie Griffin's bed prior to but as seen in "Lois Kills Stewie".
Ad blocker interference detected!
Wikia is a free-to-use site that makes money from advertising. We have a modified experience for viewers using ad blockers

Wikia is not accessible if you've made further modifications. Remove the custom ad blocker rule(s) and the page will load as expected.