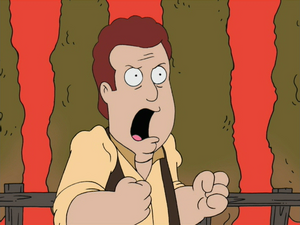 William Alan Shatner (born March 22, 1931) is a Canadian actor, recording artist, and author. He gained worldwide fame and became a cultural icon for his portrayal of James T. Kirk, captain of the USS Enterprise, in the science fiction television series Star Trek from 1966 to 1969, Star Trek: The Animated Series from 1973 to 1974, and in seven of the subsequent Star Trek feature films from 1979 to 1994.
Shatner also played the eponymous veteran police sergeant in T.J. Hooker from 1982 to 1986. He has since worked as a musician, author, producer, director, and celebrity pitchman. From 2004 to 2008, he starred as attorney Denny Crane in the television dramas The Practice and its spin-off Boston Legal, for which he won two Emmy Awards and a Golden Globe Award.
Shatner has appeared as a character on several episodes, which usually parody his bombastic acting style, his somewhat less than athletic physique, and his toupé. In "I Never Met the Dead Man", he befriended Peter Griffin after his car broke down outside the Griffins house: Later, while running barefoot in the rain together, both of them were accidentally run down by Meg driving the family car. Peter survived, but Shatner was killed.
In "The King Is Dead" he can be seen in the audience during the performance of The King and I.
Peter used the name T.J. Hooker while confronting the criminal in "To Love and Die in Dixie".
Shatner also been seen as Captain Kirk in an old clip of Star Trek, and as Tevye in a performance of the musical Fiddler on the Roof, where, after screwing up his lines, he broke character to yell for Khan in "When You Wish Upon a Weinstein".
In "The Kiss Seen Around the World", Neil Goldman's class presentation is on the 1967 Star Trek episode "Arena". Neil and his teacher briefly argue about who is the "superior officer": Captain Kirk from Star Trek: The Original Series or Captain Picard from Star Trek: The Next Generation.
In "Not All Dogs Go To Heaven", a scene with Shatner was pulled after the original broadcast. Peter asks Shatner at a Trek convention initially about the original series episode "The Paradise Syndrome" about drowning his wife, he asks why he's so fat. Shatner's wife Nerine Kidd drowned in a pool accident in 1999.
He appeared as Captain Kirk in "Lottery Fever" in live action in a version of Star Trek II: The Wrath of Khan edited for goats.
He is voiced by Seth MacFarlane.
External Link