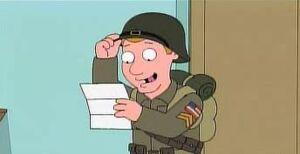 Willy is a random World War II army soldier that Peter Griffin gives a letter to in "And Then There Were Fewer" when he hands out the family mail. Willy reads the letter from his girlfriend while the Griffins congratulate him in the same manner as would a squad of soldiers.
He was voiced by Seth MacFarlane.
Ad blocker interference detected!
Wikia is a free-to-use site that makes money from advertising. We have a modified experience for viewers using ad blockers

Wikia is not accessible if you've made further modifications. Remove the custom ad blocker rule(s) and the page will load as expected.