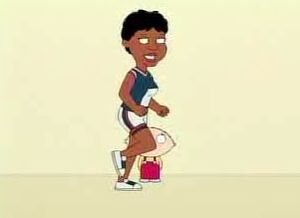 Wilma Glodean Rudolph (June 23, 1940 – November 12, 1994) was an American athlete, and in the 1960 Summer Olympics in Rome, Italy, she became the first American woman to win three gold medals in track and field during a single Olympic Games, despite running on a sprained ankle at the time. A track and field champion, she elevated women's track to a major presence in the United States.
Knocked silly by Mayor Adam West in "Spies Reminiscent of Us", Stewie Griffin tries to set up a cutaway. However, he loses his train of thought and not even Rudolph, who runs by him, can't help get him back on track.
Ad blocker interference detected!
Wikia is a free-to-use site that makes money from advertising. We have a modified experience for viewers using ad blockers

Wikia is not accessible if you've made further modifications. Remove the custom ad blocker rule(s) and the page will load as expected.