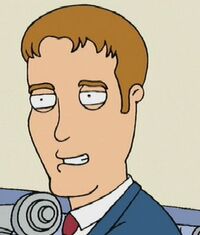 Wilshard Watkins is the talent agent who appears in "Fifteen Minutes of Shame". He talks Peter and Lois Griffin into letting them film the family as a reality show . The show would become The Real Live Griffins. When Meg walks off, he replaces her with Other Meg. When the rest of the family quits, he replaces Peter with Tom Arnold, Lois with Fran Drescher, and Brian and Stewie with Mary-Kate and Ashley Olsen. He was voiced by Jay Mohr.
Ad blocker interference detected!
Wikia is a free-to-use site that makes money from advertising. We have a modified experience for viewers using ad blockers

Wikia is not accessible if you've made further modifications. Remove the custom ad blocker rule(s) and the page will load as expected.