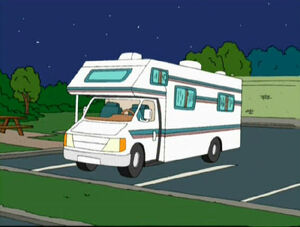 Winnebago Industries Inc. is a manufacturer of motor homes, a type of recreational vehicle or RV, in the United States. It is based in Forest City, Iowa. One plays a key role in Stewie Griffin: The Untold Story, the "Bango Was His Name Oh" segment. Glenn Quagmire buys one to go on a 'Cross Cuntry Tour'. nicknaming it the "Wanna-Bang-Oh". Stewie and Brian leave him in a motel after he is tied up and robbed by a prostitute. The "Wanna-Bang-Oh" was destroyed in the desert of the American Southwest.
Ad blocker interference detected!
Wikia is a free-to-use site that makes money from advertising. We have a modified experience for viewers using ad blockers

Wikia is not accessible if you've made further modifications. Remove the custom ad blocker rule(s) and the page will load as expected.