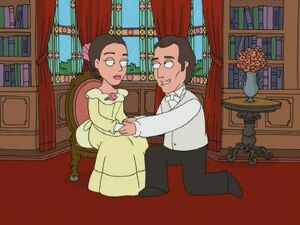 Winona Laura Horowitz (born October 29, 1971), better known under her professional name Winona Ryder, is an American actress. She started her career in 1986. Although Ryder made her screen debut in Lucas (1986), her first significant role came in 1988 with Beetlejuice as Lydia Deetz, a Goth teenager at the age of 17, in a performance that gained her critical and commercial recognition. After making various appearances in film and television, Ryder continued her career with the cult film Heathers (1989) in a prominent and critically acclaimed performance. Her subsequent roles have won her not only critical praise but numerous film awards.
She is shown with co-star Daniel Day-Lewis on the set of The Age of Innocence in Breaking Out is Hard to Do.
Ad blocker interference detected!
Wikia is a free-to-use site that makes money from advertising. We have a modified experience for viewers using ad blockers

Wikia is not accessible if you've made further modifications. Remove the custom ad blocker rule(s) and the page will load as expected.