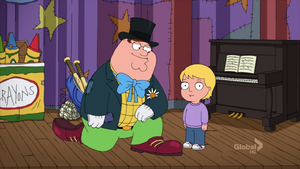 Winston is a child from the studio audience of Petey's Playhouse in "You Can't Do That On Television, Peter" that Peter selects to tells about his experience with a bully. As Winston tells of how he was picked on while on the way to ballet class he peed his pants when he was eight years old, prompting Peter to physically kick him off of the stage for being a wimp and directs the other kids to finish him off.
Ad blocker interference detected!
Wikia is a free-to-use site that makes money from advertising. We have a modified experience for viewers using ad blockers

Wikia is not accessible if you've made further modifications. Remove the custom ad blocker rule(s) and the page will load as expected.