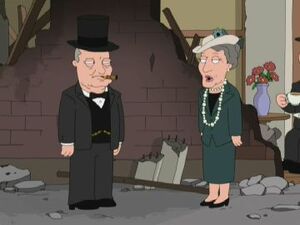 Sir Winston Leonard Spencer Churchill KG, OM, CH, TD, FRS, PC (30 November 1874 – 24 January 1965) was a British politician known chiefly for his leadership of the United Kingdom during World War II. He served as Prime Minister from 1940 to 1945 and again from 1951 to 1955. A noted statesman and orator, Churchill was also an officer in the British Army, historian, writer, and artist. He is the only British Prime Minister who has ever received the Nobel Prize in Literature and the second person to be made an Honorary Citizen of the United States.
In "Dammit Janet!", Peter Griffin puts on a one-man show called Winston Churchill: We Hardly Knew Ye' where he repeatedly mocks him.
Churchill is seen in "Road to Germany". He does not show the wit he was famous for, calling Lady Astor a fat bitch, a cunt on the DVD version, when she found him drunk. Stewie Griffin figured historians kept only the gems in history books.
Ad blocker interference detected!
Wikia is a free-to-use site that makes money from advertising. We have a modified experience for viewers using ad blockers

Wikia is not accessible if you've made further modifications. Remove the custom ad blocker rule(s) and the page will load as expected.