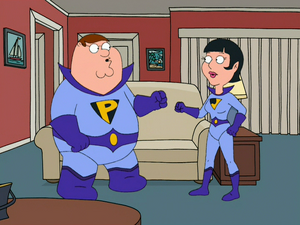 The Wonder Twins are two fictional, extraterrestrial, comic book superheroes published by DC Comics. The duo consists of twins, Zan and Jayna.
In "A Fish out of Water", Peter and Brian lock rings and both say "Wonder Twin Powers...activate!". When nothing happens, Brian reminds Peter that they got the rings in a box of Frankenberry cereal.
In "Fast Times at Buddy Cianci Jr. High", a flashback revealed that Peter was once a Wonder Twin with Jayna. He was shown to have transformed into her tampon and waited for her.
Ad blocker interference detected!
Wikia is a free-to-use site that makes money from advertising. We have a modified experience for viewers using ad blockers

Wikia is not accessible if you've made further modifications. Remove the custom ad blocker rule(s) and the page will load as expected.