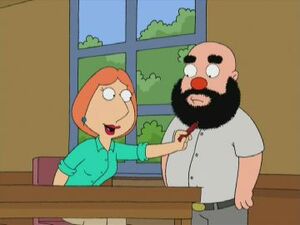 Wooly Willy is a toy in which metal filings are moved about with a magnetic wand to add features to a cartoon face. The toy was originally manufactured in Smethport, Pennsylvania and was launched on the toy market in 1955. It remains in production today.
After making a disparaging remark about beards in "Brian Wallows and Peter's Swallows", Lois Griffin moves Willie's beard to the top of his head.
Ad blocker interference detected!
Wikia is a free-to-use site that makes money from advertising. We have a modified experience for viewers using ad blockers

Wikia is not accessible if you've made further modifications. Remove the custom ad blocker rule(s) and the page will load as expected.