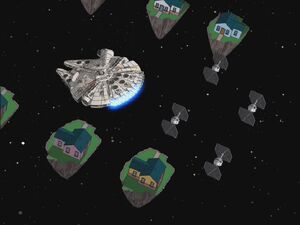 World's Wildest Police Videos was a reality television series that aired on FOX from 1998-2002, and showcased police videos from the United States and worldwide. The subject of many of the videos aired on the series was high-speed car chases involving criminals attempting to elude law enforcement officers, and (sometimes) the officers' attempts to bring them into custody if the wanted subjects proved to be uncooperative. Footage of robberies, riots, burglaries and other crimes were also shown.
The videos, narrated by John Bunnell, were provided by both police departments, news agencies, hidden security cameras and private citizens.
Although the last original show was aired in 2001, reruns continue to air to this day, and has aired on Spike TV, TNT and TruTV.
In "Quagmire's Baby", the police's pursuit of Fred Flintstone is seen. The actions that the Fred take reference The Flintstones opening theme sequence.
In Something, Something, Something, Dark Side, the Empire's pursuit of the Millennium Falcon is filmed and narated as they go through an asteroid field and neighborhood.