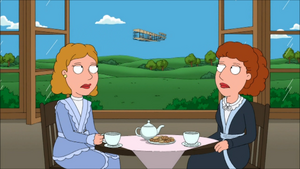 The Wright brothers, Orville (August 19, 1871 – January 30, 1948) and Wilbur (April 16, 1867 – May 30, 1912), were two Americans credited with inventing and building the world's first successful airplane and making the first controlled, powered and sustained heavier-than-air human flight, on December 17, 1903. In the two years afterward, the brothers developed their flying machine into the first practical fixed-wing aircraft. Although not the first to build and fly experimental aircraft, the Wright brothers were the first to invent aircraft controls that made fixed-wing powered flight possible.
In "I Never Met the Dead Man", Stewie damns the Wright Brothers when Lois tries to make him eat by pretending his spoon is an airplane.
In "Amish Guy", Stewie gives grudging admiration for Peter realizing his dream just like the Wright Brothers. A cutaway gag leads to two women talking about Orville Wright as he flies by and calls his ex-girlfriend a bitch, then returns and retracts the statement in order to make up.