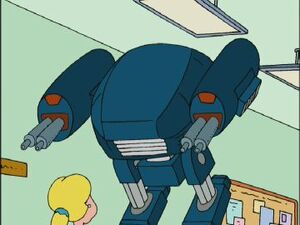 The XL-K hall pass enforcement robot was purchased by Peter Griffin during his tenure as School Board President in "Running Mates". A young girl is confronted by the XL-K and requested to present a hall pass. It attacks her even after she complies. It is implied that the robot fires on Randall Fargus upon his rehiring when he doesn't understand the robot's request.
Ad blocker interference detected!
Wikia is a free-to-use site that makes money from advertising. We have a modified experience for viewers using ad blockers

Wikia is not accessible if you've made further modifications. Remove the custom ad blocker rule(s) and the page will load as expected.