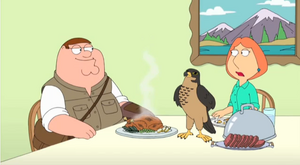 Xerxes is a falcon that Peter gets when he decides he wants to be a falconer in "Call Girl". Despite Lois' reservations, Xerxes brings Peter a fully plated entrée and flameés it when he instructs it to bring dinner to him. However, the falcon perches on Stewie's soft spot on his head, deflating it and brings Lois an entire sheep when Peter asks it to find her misplaced purse. When Lois objects, Peter insists that the sheep will now be Lois' purse.
When Peter spots a couple riding a motorcycle with a sidecar while taking Xerxes to the park, he uses Xerxes to steal the motorcycle. However, the couple ends up suing Peter for everything he owns, including Xerxes.
Ad blocker interference detected!
Wikia is a free-to-use site that makes money from advertising. We have a modified experience for viewers using ad blockers

Wikia is not accessible if you've made further modifications. Remove the custom ad blocker rule(s) and the page will load as expected.