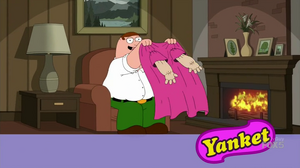 The Yanket is an invention of Peter Griffin that he created to masturbate in secrecy in "Underage Peter".
It comes with decoy arms that can hold items such as a remote or a beer. There are Yankets for various locations such as the store, sporting events and on the job. Chris finishes the episode using a Yanket, as Stewie observes that he masturbating out in the open previously.
Ad blocker interference detected!
Wikia is a free-to-use site that makes money from advertising. We have a modified experience for viewers using ad blockers

Wikia is not accessible if you've made further modifications. Remove the custom ad blocker rule(s) and the page will load as expected.