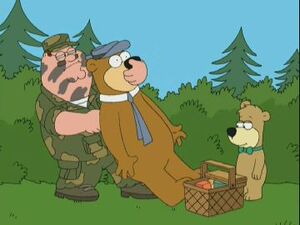 Yogi Bear is a cartoon bear created by Hanna-Barbera. Along with his best friend Boo-Boo, also a bear, they live in the fictional park of Jellystone. Yogi is well known for a variety of different catchphrases, "pic-a-nic baskets" and "I'm smarter than the average bear!" as well as "Hey there, Booboo!".
Yogi is seen in a cutaway in "Hell Comes to Quahog". Peter Griffin brutally kills him using a hunter's knife as a favor to the Park Ranger. Peter then callously tells a shocked Boo-Boo to tell the other bears what he had seen.
External links
Ad blocker interference detected!
Wikia is a free-to-use site that makes money from advertising. We have a modified experience for viewers using ad blockers

Wikia is not accessible if you've made further modifications. Remove the custom ad blocker rule(s) and the page will load as expected.