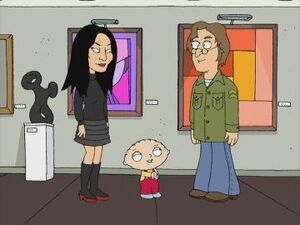 Yoko Ono (born February 18, 1933) is a Japanese artist, musician, author and peace activist, known for her work in avant-garde art, music and filmmaking as well as her marriage to John Lennon. Ono brought feminism to the forefront through her music, and is also considered a pioneer and major influence of the 1970s new wave genre. She is a supporter of gay rights and is known for her philanthropic contributions to the arts, peace and AIDS outreach programs.
Stewie Griffin remembers setting Lennon and Ono up in "Ready, Willing, and Disabled".
Yoko is compared to the girl from The Ring in "Switch the Flip".