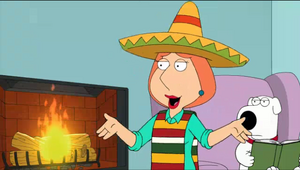 The Yule Log is a television program which airs traditionally on Christmas Eve or Christmas morning, originally on New York City television station WPIX but now on many other Tribune Company-owned stations, including WGN America. A radio simulcast of the musical portion was broadcast on sister station WPIX-FM (later WQCD and now WRXP) until 1988.
The program, which has run anywhere from two to four hours in length, is a film loop of a yule log burning in a fireplace, with a traditional soundtrack of classic Christmas music playing in the background. It airs without commercial interruption.
The show is on the television in the Griffin living room during the performance of "All I Really Want For Christmas" in "Road to the North Pole".
Yule Log again makes an appearance on the family television in "Christmas Guy", "The 2000-Year-Old Virgin" and in "Don't Be a Dickens At Christmas".