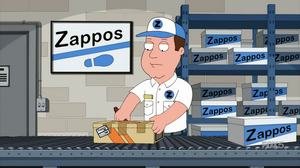 Zappos, also known as Zappos.com, is an online shoe and clothing retailer based in Las Vegas known for its customer service.
In "Papa Has A Rollin' Son", Stewie is being stalked by Tom Cruise after he breaks up their friendship when he discovers he will be normal-sized as an adult, rather than very short. Enlisting Brian's help, they trap Cruise in a shoebox and return him to Zappos, noting their return policy of accepting anything. On his arrival, Tom is greeted back by the clerk, who notes that he got to spend two weeks before being sent back in.
Ad blocker interference detected!
Wikia is a free-to-use site that makes money from advertising. We have a modified experience for viewers using ad blockers

Wikia is not accessible if you've made further modifications. Remove the custom ad blocker rule(s) and the page will load as expected.