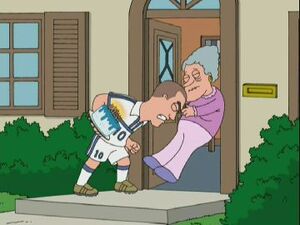 Zinédine Zidane (born 23 June 1972) is a retired French professional soccer player. He played for club teams in France, Italy and Spain, and was a member of the French national team.
He has a birthday telegram service to an unfortunate elderly woman in "Saving Private Brian", which emphasizes on headbutting, a parody of a controversial occurrence in the 2006 World Cup.
Ad blocker interference detected!
Wikia is a free-to-use site that makes money from advertising. We have a modified experience for viewers using ad blockers

Wikia is not accessible if you've made further modifications. Remove the custom ad blocker rule(s) and the page will load as expected.